Resistant short-circuit current (IGR) of effective components that actually affect electric shock and electrical fire and capacitive leakage current (IGC) of invalid components due to harmonics of LED power supplies

is a new concept of IGR short circuit breaker (green trip curve) that operates sensibly (20 mA) in actual short circuit (IGR) and obtusely (120 mA) in invalid component (Igc).

It does not operate unnecessarily when the leakage current rises in the event of a lightning strike and a protective device is built in even when a surge voltage occurs.

It extends the life of the LED streetlight power unit.

Surge voltage suppression is approximately 50%.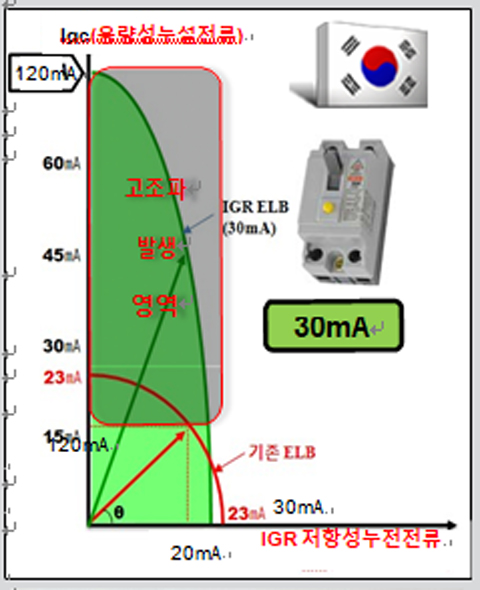 Model Name Horizontal Classification Box (IGR-32C)
Frame, Polar 30AF, 2 poles
Rated voltage AC 220V±10%
Rated current 15A,20A
Rated cut-off current 2.5kA
Rated sensitivity current 30 mA
IGR:20mA/IGC:120mA
Floating sensitivity current 15 mA
Operation time 0.03 seconds
Protection function combined with short circuit, ground circuit, overload, short circuit protection
Appearance dimension width (62) *length (128) *height (75) mm
IP Code IP53
Third-party products in the horizontal bisector box (IGR-32C)
Operation by resistive short circuit current (Igr) Operation by synthetic leakage current (Io)
IGC: Insensitive operation (approximately three times the previous one)
- Trip caused by instantaneous capacitive leakage current (IGC) (cause of frequent operation during lightning strikes)
- Insufficient instantaneous surge suppression function
- Additional cost incurred when installing protection equipment for LED lighting protection
- No real estate due to instantaneous capacitive leakage current rise
- Instantaneous surge suppression: At 2,000V, 900V
-450V input can be suppressed to 220V to protect the power unit such as LED lighting.
- Overpass a city led street, highway led led the mountainside lamp posts and security lights, street lights.
- LED security lights that are not prone to flooding on the hillside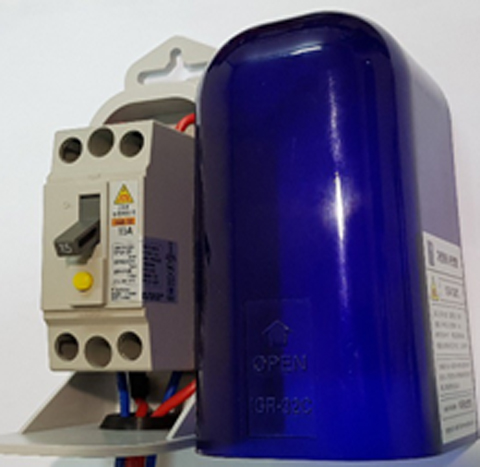 ※This product is safe to use for CCTV power.