Gems 3500 is installed in the distribution board and switchboard that supplies power to factories, building ID centers, etc., and measures the voltage and current of the incoming and outgoing branches to determine the electrical energy consumption pattern for each detailed unit through power and wattage calculation. to improve equipment processes and contribute to energy savings. All the acquired status measurement information is provided to the host system by Ethernet or serial communication and controlled as necessary to enable efficient power management operation. The effect of this is as follows.
1) Autonomous operation possible to maintain the optimum indoor temperature according to the forced energy allocation method.
2) It is possible to calculate carbon emission by unit part.
3) Energy cost allocation and waste factor identification function by measuring the amount of electricity per process/time.
4) Detailed unit wattage monitoring and wattage usage analysis and statistics function.
5) It is possible to establish an energy saving plan in the correct direction by analyzing the energy consumption by department, use, and time period.
6) Greenhouse gas energy target management and carbon credit market preparation possible.
7) Energy saving possible through process improvement.
8) Accurate trends and statistics by factory/building/department are possible, so it is possible to motivate energy saving by inducing a competitive spirit

-Multiple power meter capable of monitoring multiple powers with one device
-Measurement elements: phase/line voltage, frequency, line current, active/apparent power, voltage/current unbalance factor, power factor, active/reactive/apparent power
- Capable of monitoring up to 54 single-phase loads and 26 (3-phase 3-wire) or 18 (3-phase 4-wire) three-phase loads
- 0.5/1.0 Class power accuracy according to IEC62053-21/22
-Applied to 3-phase 4-wire/3-phase 3-wire system with one model
-Can replace up to 18 stand-alone power meters, reducing the cost of power measuring equipment
-Sag/Swell function (minimum 0.5 cycle)
-Indication of harmonic reactive power content. (THD)
-Temperature (NTC) 1 point support.
-RS485 Serial communication and Ethernet communication support.
-External DI/DO/AI module extensibility.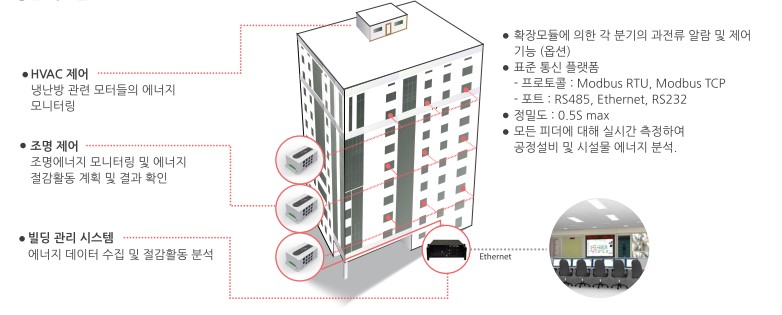 1-Measurement Power: Distribution Board/Distribution Board Main Voltage Terminal
2- Erthernet Port: Upper system connection port (Modbus SIave)
3- 1-54 CT port: : 100mA (secondary side) CT connector
4-Temperature sensor port: NTC input terminal
5-DO Port : DO output terminal
6-DI Port : DI input terminal
7-Operation Power: Connect the power supply for device operation (AC/DC 100~240V)
8-Instrument status LED: RUN: blinks during normal operation STAT: blinks quickly during normal measurement
Comm: Blinks during settlement communication
9-PDM Port: Port for connecting Configurator/PDM device
10-RS485 Port: External I/O connection, upper system connection (Modbus Master/SIave)
11-SD Card Slot: Micro SD Card SIot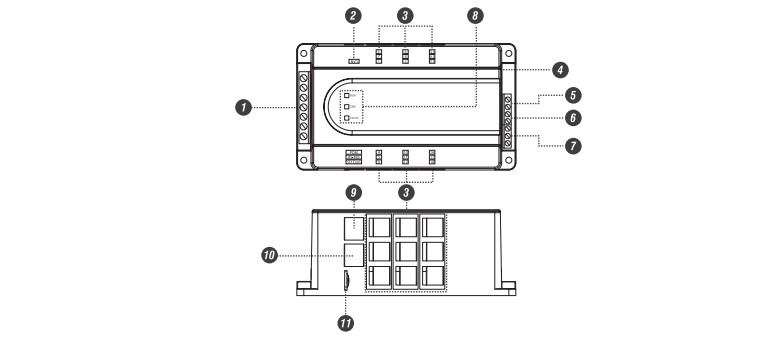 user interface software
Simple and fast parameter configuration
- Current channel input
-Voltage input setting
- Communication settings
-Event setting ( Sag, Swell, over current, temperature)
-DO, DI settings
-AI settings
Real-time data monitoring display
-Display measured values for each channel and phase.
- Vector diagram window for checking voltage and current phases.
- Total power per channel (active, reactive, apparent)
-Total power consumption by channel (current, current month, previous month)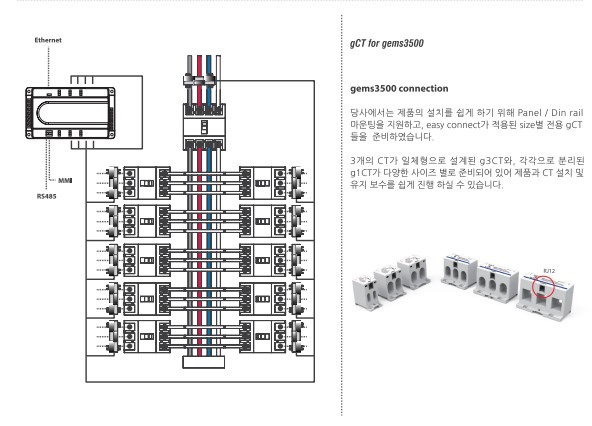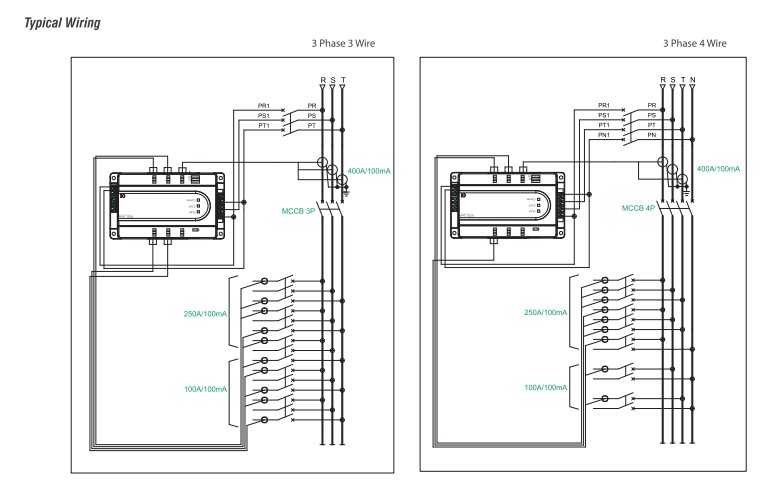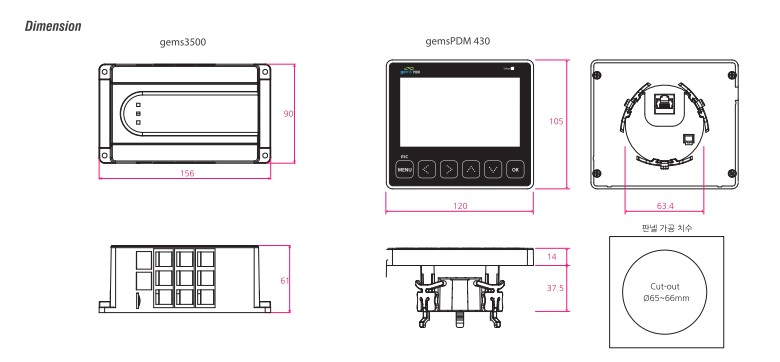 The gems3500 order code consists of gems3500, gems PDM and CT.
For CT, please refer to the applicable CT list.
gems 3900-54 AT
1 Model: 3500 (Multi-Channel Power Meter)
2 Number of current input channels: 18/27/36/45/54
3 CT and temperature sensor specifications: 100mA CT / NTC sensor
gems PDM - 430 (A)
1 Model: PDM (Panel Display Monitor)
2 Specifications: 4.3" TFT LCD
3. Master equipment A-gems3500 dedicated PDM